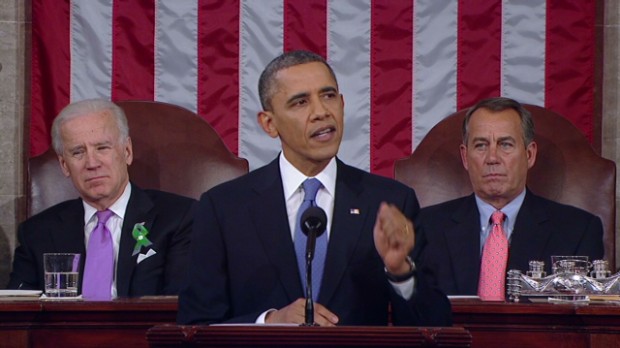 Tonight's State of the Union will inevitably be viewed differently by people who have watched Nettflix's "Mitt" over the past five days than by those who are simply sick and tired of the droning president.
The audio and transcript of my interview with Mitt Romney from Monday are here. Reactions to that conversation –the Washington Post, Daily Caller, Mediaite, RCP– mostly focused on the 2012 Benghazi debate even as Hillary spent time yesterday making her first effort at saying mentioning Benghazi just a bit –my "biggest regret"– so as to position herself to say as 2016 that she has discussed it often without ever actually questions as to what happened that terrible night. (The Washington Free Beacon preferred Romney's comments on Charlie Crist, and I expect those may come into play later in the year in the Sunshine State as Florida voters get a chance to judge one of the least trustworthy pol in America in his comeback bid.)
People who have watched "Mitt" will be thinking "Really, we picked this guy over that guy?" Most of the rest will just be sighing and saying to themselves "Three more years?"
The safest drinking game in the world will be that which tipples when the president mentions Benghazi tonight.
The most dangerous? When the word "inequality" is mouthed.
Look, the State of the Union is not good. Abroad we are in a broad retreat from the world, with chaos in Ukraine and Libya and terrible butchery in Syria –the fruits of the Clinton-Obama years– and an angry-with-the-US new leader rising in Egypt. (Hopefully General Sisi puts American idiocy down to the Clinton-Obama follies and not to a general American drift into support for the Muslim Brotherhood.)
Putin is a throwback KGBer running the country like a throwback KGBer would, and China is pushing every limit. My interview with Robert Gates from last week provides a quick tour of our crumbling presence in the world, and buzz is leaking that this Adminsitration will actually move to reduce the country's fleet by a full carrier group.
At home Obamacare is such a mess the president won't give it much time except to say it is getting better and rattle off meaningless stats on how many have signed up, stats that don't compare that number with those who lost their coverage, those forced from their established doctors, those paying much higher premiums, or those awaiting the blow to small business this year from the end-stage of liberalism's reach.
Immigration talk, being pushed every day by the New York Times, is the president's only hope for 2014, so he will demand action. The president believes in his heart that the GOP is obliged to undertake some utterly stupid political move to forfeit their advantage that flows from a singular focus on "fix Obamacare first." Given the House GOP's unforced error in attacking the career military COLA two weeks back, the president isn't wrong to count on the GOP to throw itself under the bus, but enough voices are being raised that even the sealed-off rooms in which the House GOP leadership are working on a party-splitting immigration bill might hear some echo of the mighty shout "Stop!"
It will be a dreary affair. Maybe the president will attack the Supreme Court again, or toss them false props for upholding Obamacare when it fact they carved it up and that which is left standing is falling apart.
The president will threaten executive orders. Meh. Like he has been a paradigm of restraint.
The only good news is that after tonight we are fewer SOTUs from President Obama left to hear than we have already heard. Not much, but something. The smell of lame duckbill be everywhere tonight, and if the House GOP can just inhale enough of it, perhaps they will stop falling back and simply stand their ground until November, pointing at the wreckage of this presidency and asking the American voters for reinforcements in the Senate.