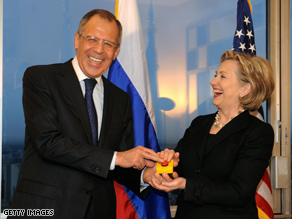 Just reminding folks, the mouthpiece of Putin is Sergey Lavrov with whom Hillary believed she had forged a strong bond and through who the U.S.-Russian relationships was to be reset.
It isn't just the Russians who are pushing President Obama (and through his his present Secretary of State John Kerry and his past representative to the world Hillary), it is also China, which issued a statement yesterday after the president reiteration of its standing alongside of Japan in its South China Sea Dispute with the PRC. From the New York Times:
A Chinese Foreign Ministry spokesman, Qin Gang, said Wednesday that China was "firmly opposed to treating the U.S.-Japan security treaty as applying to the Diaoyu Islands."
"The United States should respect the facts, in a responsible manner abide by its commitment not to choose sides over a territorial sovereignty issue, be cautious on words and deeds and earnestly play a constructive role for peace and stability in the region…"
Two weeks ago SecDef Hagel got knocked around rhetorically by the Chinese while visiting the PRC, and the president's show of unity with the Japanese is getting the same sort of reception from Beijing. Still the usual suspects put their faith in paper agreements, like the one being signed on a naval code of conduct in the South China Sea.
This faith in papers signed by authoritarians is remarkable given that the Russians signed a paper on Ukraine less than a week ago which is already worthless, just like the New Start treaty with Russia.
Russia is using its "green men," notes Max Boot, and China's provocations in the South China Sea are part of a comprehensive strategy to dominate that ocean which isn't going to change but which can be opposed by the presence of ships –ships which are fewer and fewer in number because of the president's defense budget. If anyone really wants to contain Putin and the PRC, they have to support serious and immediate hikes in defense spending. Paper is no way to stop with country or for that matter Iran.
Powerline's Scott Johnson posted a televised exchange between Bill Kristol and Nick Kristof which underscores how liberals and of course those to their left just refuse to see the realities of how the world. Please watch the whole thing.