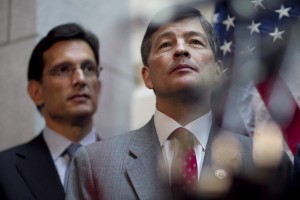 The weekend Wall Street Journal carried a small piece on a big brewing fight over the Ex-Im bank.
I supported re-authorization of the Bank in the past and will again in the future. Ex-Im supports exports and exports build trade surpluses or at least keep down trade deficits. Far more to the point, it helps key industries, like aircraft production, compete with government-subsidized products of other nations.
Ex-Im is, in a word, Hamiltonian.
Chairman Jeb Hensarling –a wonderful conservative I hasten to add– is out to get Ex-Im as an example of "crony-capitalism." I will ask him on my show soon to discuss it, but there is some buzz that the debate over Ex-Im is intended to put Majority Leader Cantor in a corner, one that he won';t find comfortable when competing for votes with Hensarling in a battle to succeed Speaker John Boehner when the Ohio gavel-holder steps down later this year (perhaps before the election to give Boehner's preferred choice, Cantor, a leg up with a delegation he knows rather than one full of new faces.)
Cantor-Hensarling will be an interesting race. (I think the post should go to the man who appears the most on talk radio between now and the vote.) But Ex-Im is far too valuable a tool of national power to hold hostage to leadership battles. It should be reauthorized and Cantor and Hensarling should find a different field on which to joust.
I talked about the looming Cantor-Hensarling showdown with The Weekly Standard's Fred Barnes on yesterday's show, and Breitbart's Jeff Poor caught the exchange here.